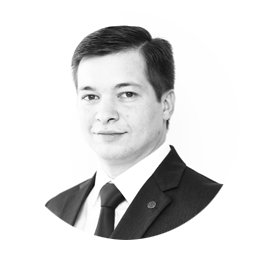 Managing partner
Kyrgyzstan
Experience
Armen Vanyan is the Managing Partner of Grant Thornton Kyrgyzstan. His professional career with Grant Thornton commenced in 2006. At the beginning of 2016, Armen joined Grant Thornton Kyrgyzstan in the capacity of Executive Director and became a Managing Partner in 2019.
Armen has more than 12 years of profound experience in the sphere of audit and accounting and is specialised in managing audit missions for financial institutions, as well as for public/governmental and top-level enterprises in various sectors.
Undertaking management of the company, Armen has established and maintains robust working relationships with people, clients and the community. Having extensive previous work experience with multidisciplinary teams and multicultural environments, Armen has succeeded in building of a firm with combination of experience and skills that offer true scale, excellent service and effective relationships to deliver added-value to your business.
Throughout his career with Grant Thornton, Armen has managed a large number of audit and advisory assignments in Kyrgyzstan, Armenia, Tajikistan and other countries of CIS region.
Memberships
Member of Institute of Internal Auditors, USA
Member of Institute of Internal Auditors, Russia
Member of Association of Accountants and Auditors of Armenia
Expertise covers
Banking & securities, Assurance, Accountancy, Financial Review/ Private Company Audit, Valuations, Tax advisory, IFRS
Qualifications
Certificate in Accounting for Islamic Financial Institutions (CIMA)
Certified internal auditor (The Institute of Internal Auditors)
ISO 31000 Risk Manager ( PECB)
Certified auditor (Financial Market Supervisory and Regulatory Service of Kyrgyzstan)
Certified auditor (Ministry of Finance of Armenia and Ministry of Finance of Tajikistan)
Certified auditor (National Bank of Tajikistan)
Qualification of Internal Audit manager for Insurance companies (Central bank of Armenia)
Property valuator (RA State Committee of Real Property Cadastre)
Candidate of economic sciences (PHD of accounting, audit and statistic, Armenian State University of Economy)